In this talk, given by the talented and versatile Nadia McKechnie, we will look at what it means to be vegan, how popular veganism is becoming, and the reasons driving the global vegan trend, particularly among millennials. How a shift to a vegan lifestyle can help us meet SDGs (the United Nations' Sustainable Development Goals), as well as lower the risk of future pandemics, will also be covered.
So, in the course of this talk you will find answers to such questions as:
What does it mean to be vegan?
Just how popular is veganism?
What is the reason behind the global vegan trend?
How can a vegan lifestyle help us meet SDG goals?
What is the connection between being vegan and preventing future pandemics?
TITLE: Vegan and SDGs: Is it time to go vegan?
WHEN: December 1, 2022 (Thursday), 13:20~14:50 (3rd period)
WHERE: AGU; Aoyama Campus; Room 910 (1st floor of Building 9) Click here.
LANGUAGE: English
TARGET AUDIENCE: All English Department IE students and any other interested students and faculty. individuals from outside of the university are also welcome.
Write questions that you would like to ask Nadia using

THIS FORM

.
Biography of Nadia McKechnie
Originally from London UK, Nadia McKechnie has been involved in the Japan vegan scene since 2013 as the organizer of Tokyo Vegan Meetup–the biggest vegan event group in Japan with over 8,700 members. (Winner of The Japan Vegetarian award for best vegan community group in 2019.)
Nadia is an active member of the Veggy Council Japan, a bipartisan committee of lawmakers and vegan-interested groups set up in 2019, in the Japan government, with the aim of making Japan more vegan-friendly.
Nadia is very well connected in Japan's as well as the global vegan scene , often sharing information as well as media comments, writing essays and giving talks.
In 2022, Nadia established Vegan Consulting Japan Co., Ltd. (joint CEO) with the aim of helping Japan companies join the growing worldwide vegan market.
Apart from her vegan activities, Nadia has a successful 25 career as a narrator ( NHK/ commercial/educational, etc) & is the author of best-selling English language learning books & materials.
To be better prepared for the event, learn a bit about the connection between what we eat and the environment by watching this video:
Rachael Lucas will also speak briefly during this session about her efforts to help both Japanese and foreign residents of Japan accurately identify what food items are vegan, which is not as easy a task as you might imagine it to be. Alex Derycz and Rachael Lucas will join Nadia on the stage for a panel discussion at the end of the talk.
Biography of Rachael Lucas
She has lived in Japan for 15 out of the last 17 years. Originally from California, USA, Rachael Lucas has been involved in the Japan vegan scene since 2018 as content creator for the website Is it Vegan? (Japan), one of the largest English-language vegan websites in the country, with more than 100,000 pageviews annually. It introduces vegan food products, ingredients, personal care products, and more.
She also shares information about veganism as administrator of Facebook groups and on Instagram, as well as by writing articles. Apart from her vegan activities, Rachael spends her free time helping stray cats and picking up garbage in her neighborhood.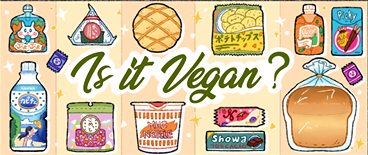 Biography of Alex Derycz
Alex Derycz is currently working as a vegan/sustainable lifestyle influencer to help promote plant-based diets in a fun and accessible way for Japanese audiences. He moved to Japan 5 years ago after graduating from UCLA and speaks 5 languages.
Instagram –https://www.instagram.com/veganoji/
Twitter – https://twitter.com/veganoji